SKYCAT X55 SERIES 3-5 KG (UP TO 9 KG)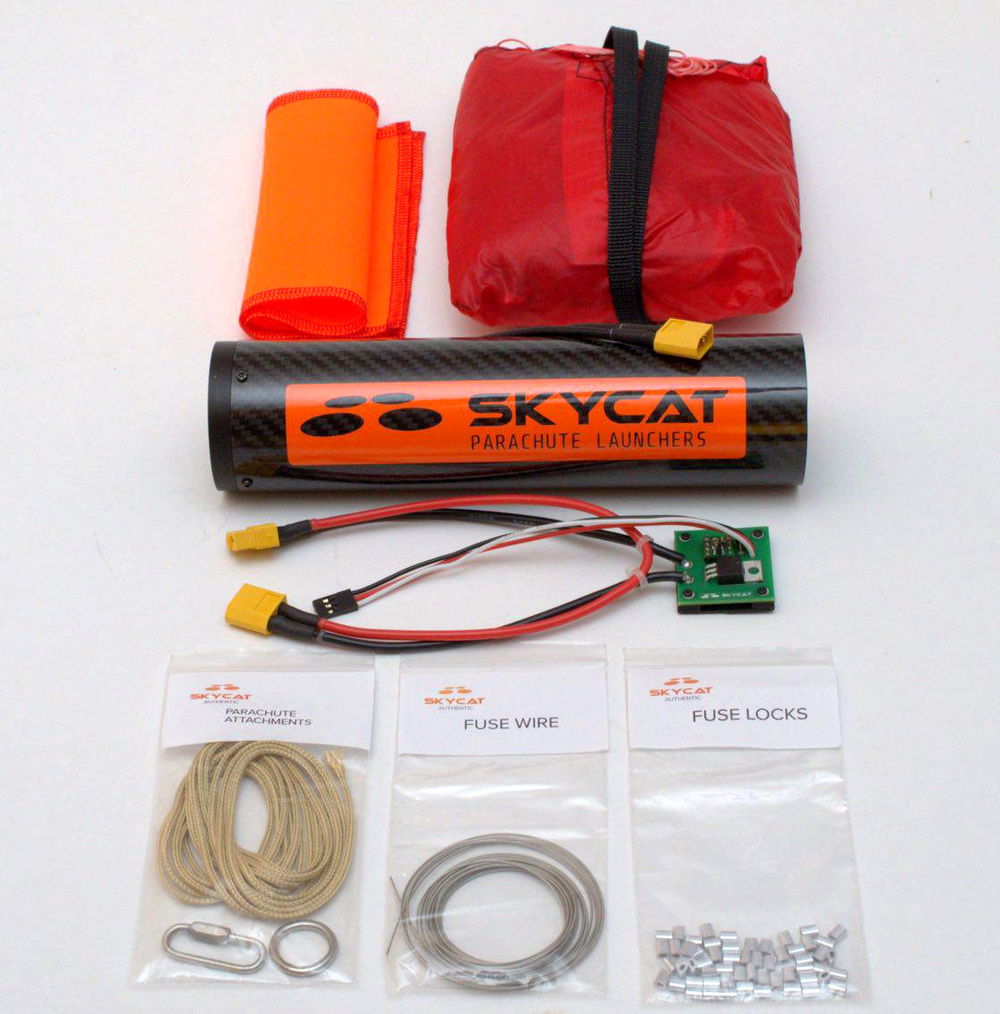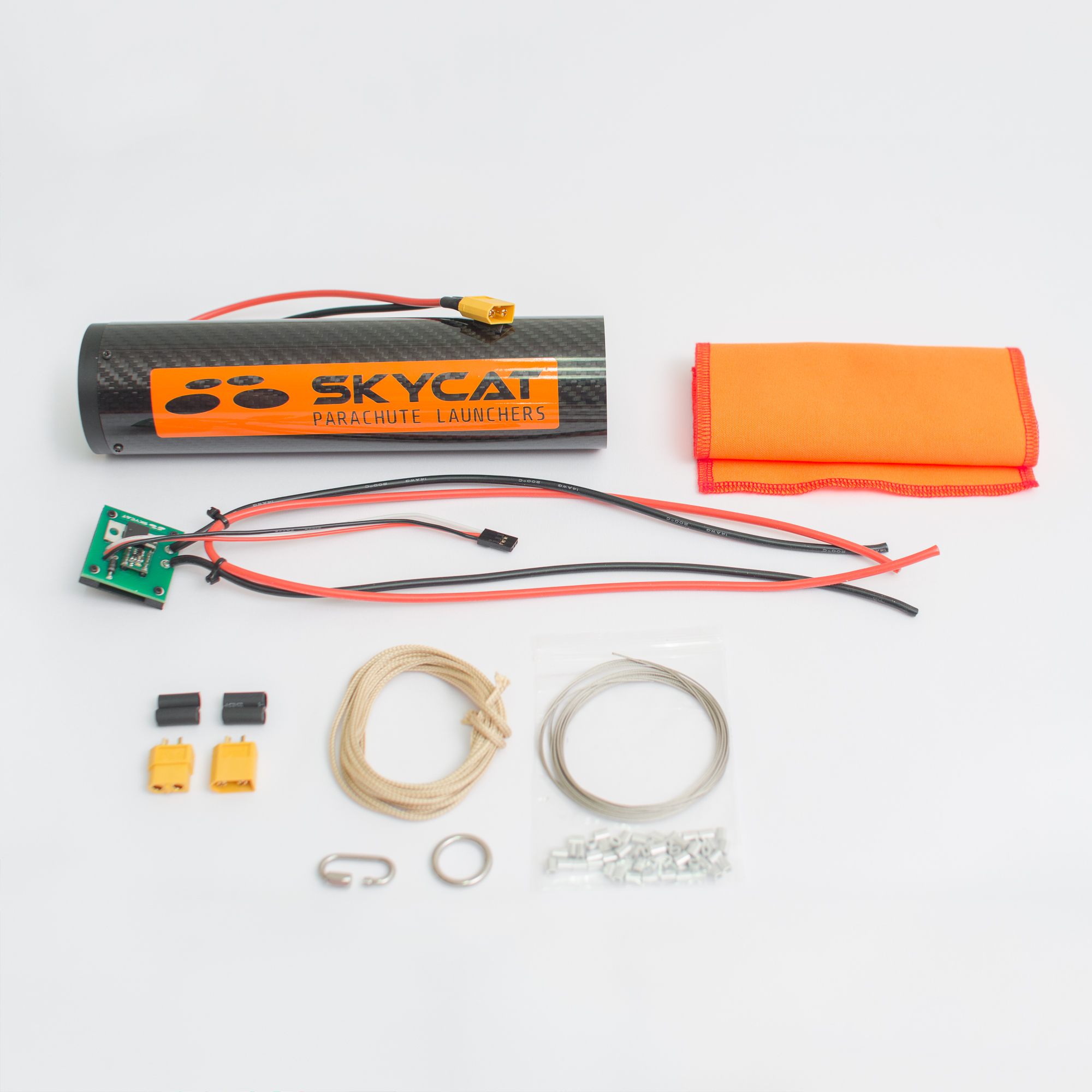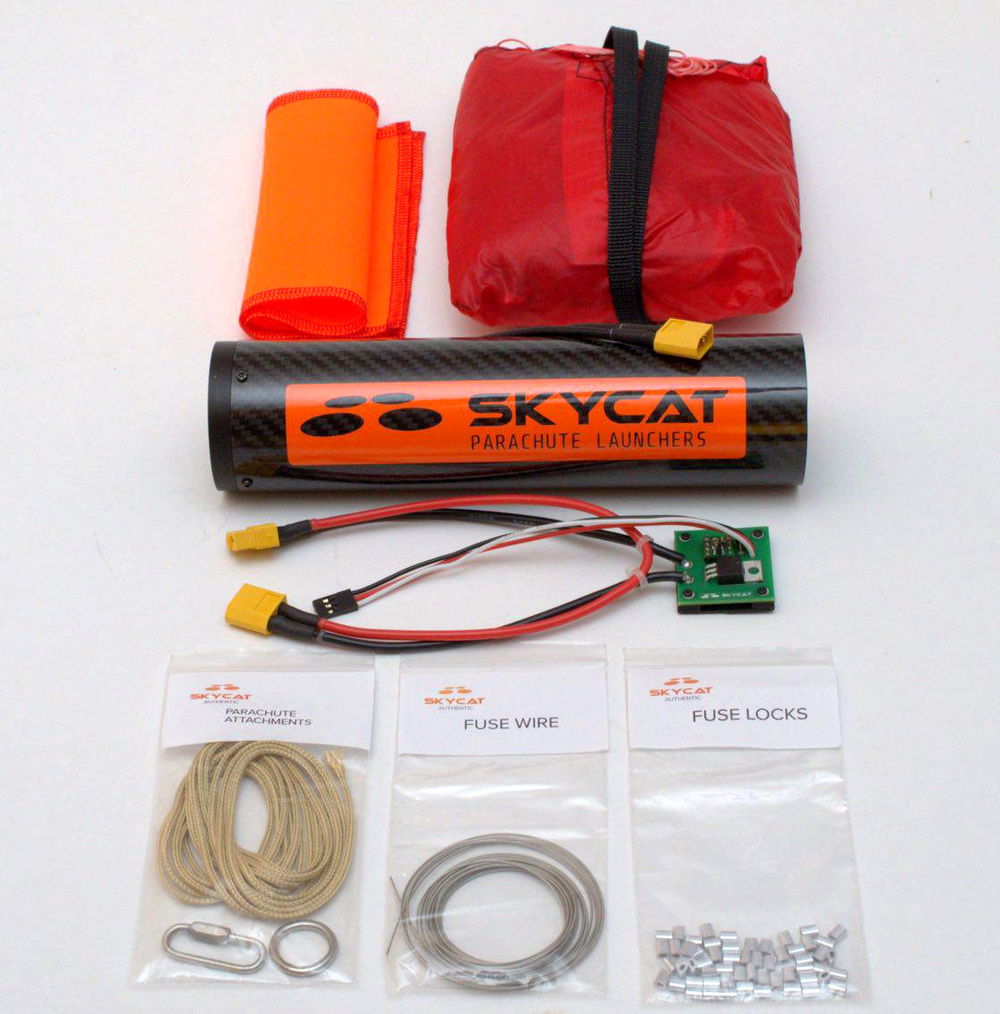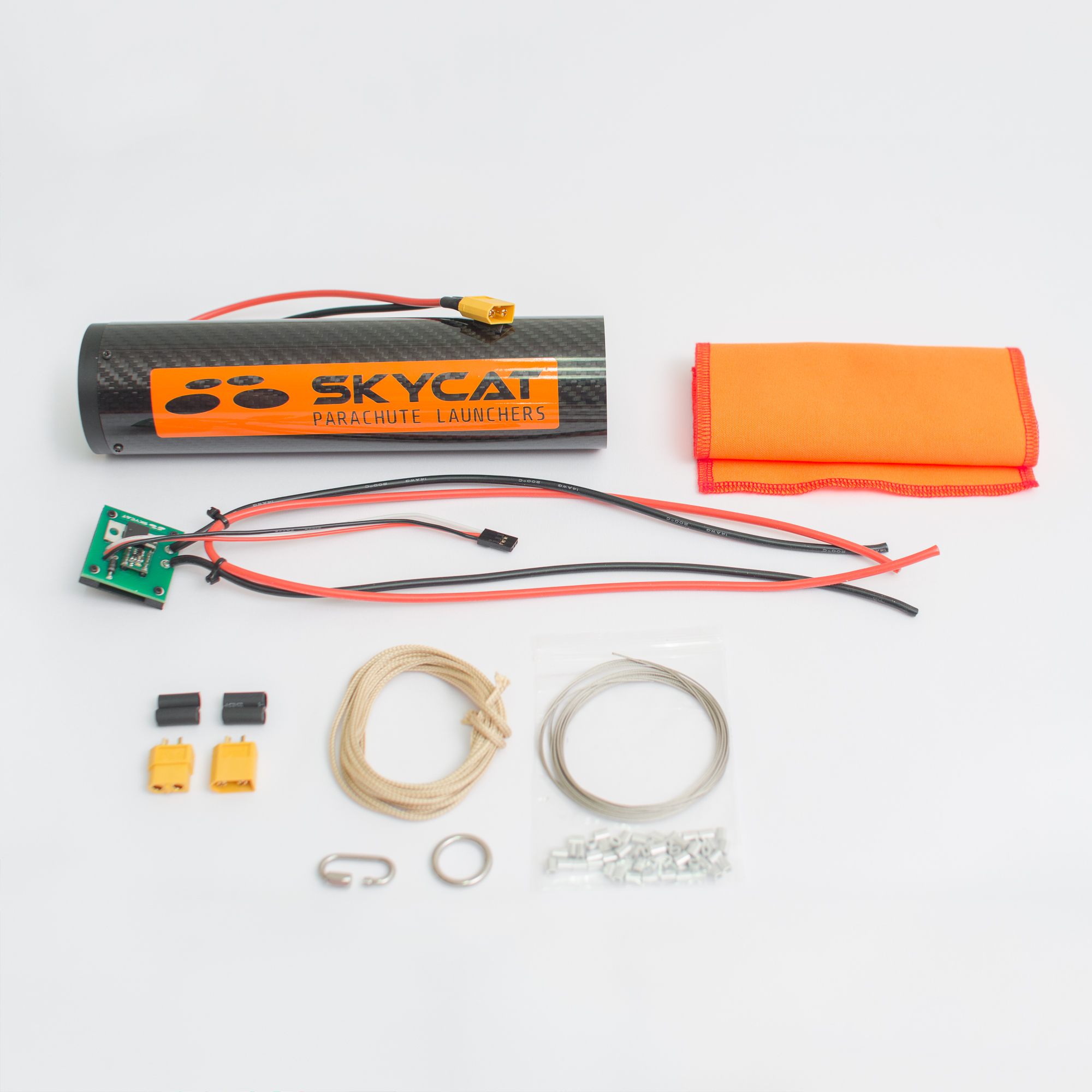 The Skycat X55 series launcher offers the lowest eject altitude of any parachute launcher available, down to 10 meters or even below. The weight/performance ratio is the best in its class. The total weight is only 320 grams including everything for full installation.
The X55-CF is ideal for UAVs in the range of 3-5 kg. For DJI Inspire 1 X55-CF offers largest parachute and lowest impact speed on the market. By selecting a Fruity Chutes option it can be installed to UAVs up to 9 kg.
The parachutes are made with the highest degree of craftmanship by Fruity Chutes and Opale Paramodels.
For advanced configurations, the product offers a wide range of possibilities for external power and eject commands.
The all-in-one package includes:
Launcher
Parachute (optional)
Trigger Unit
Fuse materials for 20 fuses
Harness kit, including a steel ring, a quick lock and 3 meters of thin and extremely strong rope line
Buy now with PayPal
Select your parachute option and click Add to Cart to proceed with PayPal.
Corecommerce
Toinen maksutapojen järjestelijä, jossa on Paypal ja vaihtoehtoja kuljetusmaksuihin.
the effect of using a parachute (2.5 m2 or IFC-48-S)
Skycat X55 with one of the recommended parachutes reduces the ground impact energy by 97% or more, when compared to terminal velocity of 50 meters per second. The landing will be about 40x softer than without.
Landing a 5 kg aircraft with a parachute is comparable to a free fall from just 1.63 meters.
Landing a 9 kg aircraft with a parachute is comparable to a free fall from about three meters.
Weight, kg
Descent speed, m/s
Impact energy, joules
Freefall equivalent, meters
3.5
4.6
37
1.08
4.0
5.1
52
1.32
4.5
5.4
65
1.47
5.0
5.7
80
1.63
5.5
5.9
97
1.80
6.0
6.2
115
1.96
7.0
6.7
157
2.29
8.0
7.2
205
2.61
9.0
7.6
260
2.94
10.0
8.0
321
3.27
11.0
8.4
388
3.59
12.0
8.8
461
3.92
No parachute, comparison:
10.0
50.0
12 500
∞ (infinity)
Mounting the launcher
We offer many kinds of mounting options, check them out at the store. Launcher needs to be supported from the base, against recoil forces. For custom installation, X55-CF launcher features M3 threads at the base. Velcro can be used to secure launcher in place.
connecting the parachute
Parachute is connected directly to the most durable locations of the airframe. All-in-one kits come with 3 meters of strong harness line. To get ready-to-install, custom length harness lines, kit can be upgraded with our Pro Harness Upgrade, shown below.
Electrical installation
Trigger is controlled via PWM channel through RC receiver, autopilot PWM output or other device. Multiple control sources can be used by adding an extra trigger for each. Trigger gets 4.9 - 6.1V operating voltage from PWM wire. Power source for launch can be either aircraft's flight battery, or a dedicated launch battery.
To get protection against aircraft power loss, it's recommended to use a dedicated launch battery and add a BEC backup guard to the system, to keep receiver and trigger alive, if aircraft BEC fails. Two recommended manufacturers for backup guards are OptiPower and Scorpion.
TECHNICAL information
Skycat X55-CF Parachute Launcher
X55-CF launcher is made of carbon fiber combined with precision NC machined POM plastics.
Diameter: 55 mm / 2.17 in
Length: 200 mm / 7.87 in
Weight 157 grams / 5.54 oz
4 x M3 mounting threads at bottom
Temperature range: -25°C - +50°C / -13°F - +122°F (note: direct sunshine may heat black tube)
Parachute
Maximum aircraft weight is defined by the parachute manufacturer. It is the maximum weight the parachute can withstand when opened in terminal speed (freefall). Model parachutes are designed to open immediately and therefore forces can be extremely high, therefore it's important to stay within the limits.
Size specifications might not be based on same measurements between manufacturers and similar values might not result in similar drag coefficient. Parachute with 48 inch deployed diameter will have better drag coefficient than competitor with 48 inch material diameter.
Fruity Chutes IFC-48-S
Weight: 126 g / 4.44 oz
Maximum recommended weight: 3 - 5 kg / 6.6 - 11 lbs
Maximum weight: 9 kg / 19.7 lbs
Manufacturer's size data: Effective diameter when deployed 48 in / 1,22 m.
Opale Paramodels 2,5 m2
Weight: 120 g / 4.23 oz
Copter recommended weight 3 - 4 kg / 6.6 - 8.8 lbs
Copter max. weight 4 kg / 8.8 lbs
Manufacturer's size data: Canopy area 2,5 m2.
Trigger
Weight: 26 - 53 grams depending on cable length on final installation. 30 cm cables supplied as standard.
Launch battery voltage: 3-4s
Receiver voltage: 4.9V - 6.1V
User manual
The unit comes with a user manual. An instructional video about arming, disarming and parachute packing is sent upon order. Don't hesitate to contact us at support@skycat.pro if you have any questions about this product.
Recommended weight ranges and copter weight limits are given by the manufacturer of the parachute. Weight has two kind of limits:
Impact speed. What is in general recommended maximum weight of the copter for achieving reasonable low impact to the ground.
Parachute strength. What is the maximum weight of the copter which parachute manufacturer guarantees that parachute will withstand parachute deploy impact without breaking. Impact from terminal speed (free fall) when parachute deploys (opens fully) can be huge. These parachutes are designed to deploy immediately and any kind of slowing methods for deploy are not used. Therefore shock forces are much higher than could imagine.